BMX Champion hosts workshop for children
Our young people enjoyed an afternoon of BMX racing with care experienced BMX Champion, Charlie Reynolds.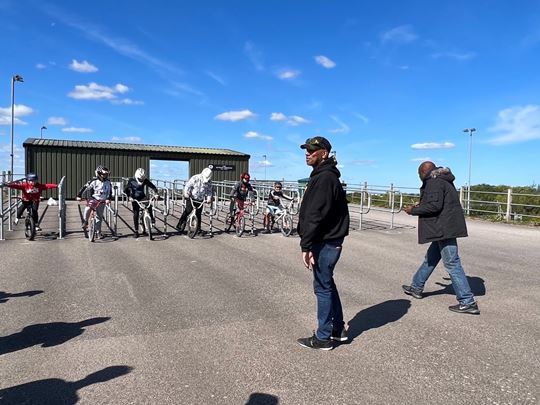 Our young people enjoyed an afternoon of BMX racing with care experienced BMX Champion, Charlie Reynolds.
Our Kent fostering team recently had the pleasure of hosting a BMX day for our children and young people. The children, along with their foster parents, ventured down to Cyclopark Kent, where they met BMX legend, Charlie Reynolds, and spent the afternoon learning to ride.
Charlie has won countless British and European championships as well as receiving the 'Champions of Champions' award an incredible six times. Not only is he an absolute legend in the sport, but he also spent much of his childhood in foster care, making him a real inspiration for our young people and one of the reasons we were so keen to have him host one of our family events.
Supported by BMX coach, Kai Riviere, Charlie started the day with some gentle confidence-boosting activities before gradually progressing to the more technical skills needed to get around the track. Some of the children started the session somewhat overwhelmed by the huge start gate and downhill section, but after just two hours of coaching, everyone had completed at least one full lap of the track. Something that many of our children didn't think would be possible.
Maria Smith, ISP Consultant Centre Therapist, who arranged the day, said, "Seeing their confidence grow throughout the day, and watching them smile, laugh and cheer on the other children was priceless."
"It was always great to see how the foster parents supported their young people, and I saw amazing connections between them. It was truly therapeutic in the most creative and outreaching way!"
After the session, the children sat down and enjoyed a hot chocolate while they celebrated their achievements and how far they'd come. Charlie also shared his story with the group and how his love of bikes and being out in nature became his sanctuary, and quite often a coping mechanism for some of the challenges he faced, including his Dyslexia and ADHD.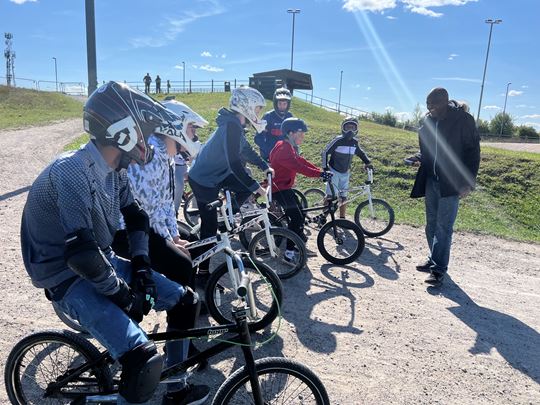 Charlie commented, "I always encourage young people to embrace whatever hobbies and interests they have because those very things have led me to lead a happy and content life. They've also helped me overcome my own mental and emotional challenges."
He continued, "It was lovely to see how the children listened to us 'oldies' talk, but I think that connection was because of us all sharing a similar story of living in foster care. The implications of living in care can be far bigger than anyone who hasn't been through the system can understand, but with the right support, we can all reach our potential."
We've had such a positive response to the event. In fact, it's been so inspiring that one foster parent went home, gave two old BMX bikes a makeover and took their children to another race track the following day, while another has signed their young person up to monthly BMX lessons. Meanwhile, Maria is planning to make the group a regular event.
On behalf of everyone at ISP, we'd like to say a special thank you to Charlie, Kai, Maria, Reuben and Zac for hosting such a fun and exciting afternoon.
You might be interested in...