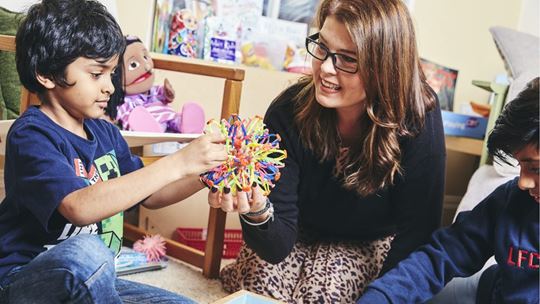 Become an expert in therapeutic care
We founded therapeutic fostering over 30 years' ago and continue to lead the way in providing high-quality foster care that transforms the lives of children and young people.
Since the beginning, we've always placed children at the centre of everything we do and over many years, have developed an all-encompassing package of support services and expertise that's available for our foster parents and children, whenever they need it.
We recognise our foster parents as fellow professionals and are focused on their ongoing development; giving them access to specialist training courses, opportunities to gain professional qualifications and be rewarded according to experience.
Specialist support available 24/7

Our 'wrap-around' support package surrounds you with a professional team of social workers, therapists, educational experts and fostering advisors. Expert advice at your fingertips.

Ongoing professional development

Access to first-class training throughout your career, plus opportunities for professional qualifications, such as NVQ3 or a QCF Level 3 in Health and Social Care.

Regular placement opportunities

We have excellent relationships with all our local authorities partners meaning we're always in a good place to offer you placements, as and when you're ready for them.

Excellent allowances and benefits

Receive up to £582 per week for each child placed, plus additional allowances for Summer activities, holidays, school uniform and more. You'll also benefit from our rewards platform where you can access lots of discounts for some of your favourite brands.

Your opinion matters

Your knowledge and experience as a foster parent are valuable to us – you'll be treated as a fellow practitioner and involved in any decisions about the young person in your care.

22 nights of respite

You'll receive up to 22 nights' respite per year to give you time to unwind - you may not always need it but it's nice to know it's there if you do.

Highly regarded by Ofsted

Our registrations are highly regarded by Ofsted with all of them being rated as 'Outstanding' or 'Good'.
Frequently asked questions
How do I transfer to your agency?
Transferring to ISP from your existing fostering agency or local authority may be easier than you think. We'd need to speak to you first and understand whether you have children in your care currently or not as the process is a little different in both cases.
You'll need to complete a full fostering assessment but we'll aim to complete this within 12 weeks of you first getting in touch with us.
How long is the process for transferring?
From the outset, we try to make the move as smooth and stress-free as possible for you and any children in your care. We aim to complete your assessment within 12 weeks if you're transferring from another fostering agency or local authority and are on hand to support you every step of the way.
Do I have to complete a new Form F assessment?
Yes, the Form F is not transferable and your current Form F belongs to the agency you currently foster for. However, the Form F process can be quicker as you have been through it before.
Am I able to transfer with my current child in placement?
In order to transfer agencies with children in place, a protocol meeting will be held between ourselves, the local authority responsible for the children and your current fostering agency to ensure everyone is in agreement.