Foster Care Fortnight 2023: Fostering Communities
With the national shortage of foster parents, especially those who can care for teenagers, siblings and children with disabilities, we hope the campaign inspires more people to consider fostering.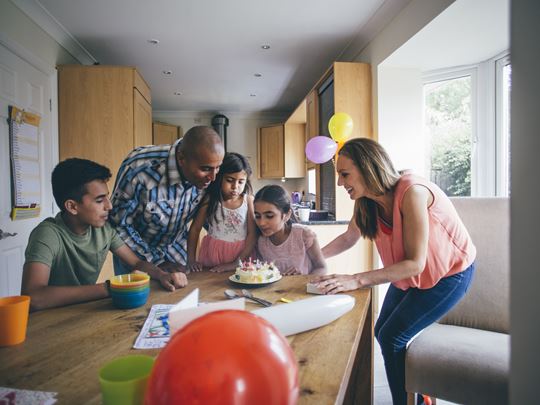 Foster Care Fortnight 2023 kicked off this morning and this year, will draw to a close on Sunday 28th May.
The annual campaign, which is run by the UK's leading fostering charity, The Fostering Network, aims to raise the profile of fostering and show the transformational difference that foster care can have on the lives of young people.
With the national shortage of foster parents, especially those who can care for older children and teenagers, siblings, children with disabilities, and asylum-seeking children, we hope the campaign inspires more people to seriously consider whether they could offer a child a safe and loving home.
Fostering Communities
The theme for this year's campaign is #FosteringCommunities. Community is something we've always felt strongly about. In fact, our entire service is designed around it. It takes a village to raise a child after all.
First, we place our children and young people at the very heart of our community, who are cared for by an extraordinary team of foster parents.
We then surround them with an entire network of support, including specialists such as social workers, therapists, and advisory teachers, as well as other professionals who have first-hand experience of fostering through our fostering advisors and other foster parents.
Connection is key
We work hard to regularly connect our foster parents and children with their local fostering community through buddy schemes, foster parent forums and lunches, coffee and chat mornings, children's events, and so much more. By providing regular opportunities to connect and build relationships with others our community, our foster parents feel able to reach out for support, whenever they need it.
And our fostering community isn't just local either. Each year, we bring together all of our foster families and young people from across the country for our annual ISP Fun Day too.
Everything we do is to build and strengthen our community, because together, we really are stronger.
"We've never had a time where we've been left on our own to deal with a situation, whatever time of the day or night it is. It's our ISP family!"
Debbie and Jake, ISP Foster Parents
Have you been inspired by the Foster Care Fortnight 2023 campaign?
Read some of the frequently asked questions below...
Around 78,000 children are living in foster care in England for many different reasons, including abuse and neglect. Foster carers provide these children with stable, loving homes for as long as needed. Sometimes, this may be a night or two in emergency circumstances, other times this may be several months or years, or up until their eighteenth birthday.
Unlike a child's parent or legal guardian, foster carers don't have legal responsibility for the children in their care, this remains with the parents and local authority. Foster carers, therefore, need to ask permission from the child's social worker for a number of decisions, such as haircuts and holidays.
Fostering is often described as one of the most rewarding things you'll ever do – giving children and young people, who haven't been given the best start in life, the opportunity to thrive.
What types of children need fostering?
There are many different children who are living in foster care, including babies, toddlers, children and teenagers up to 18 years old, from a variety of ethnic and religious backgrounds, requiring different types of foster care placements. And while every child's history is unique, the most common reasons that a child will come into foster care are due to neglect and abuse.
As a therapeutic fostering agency, we generally care for slightly older children and teenagers, who have more complex needs - often due to negative past experiences and trauma - and require specialist support and therapeutic services. Working with children with complex needs can often be challenging, but it's also one of the most rewarding roles you'll ever do.
What is the difference between fostering and adoption?
When a child is in foster care, the local authority and birth parents are legally responsible for them. This is often a temporary arrangement but can also be on a long-term basis.
Foster carers receive a weekly allowance to cover the cost of the child in their care, while also providing them with a professional fee for their hard work and dedication. Foster parents may need to seek permission for various decisions, such as haircuts and holidays, and often, will need to coordinate contact with birth family.
Adoption is permanent and the adoptive parent has full legal responsibility for the child.
What is the process of becoming a foster parent?
The process to become a foster carer generally takes around 4-6 months.
Here are the steps you'll take to become an ISP foster carer:
Take your first step – simply complete our online enquiry form or give us a call on 0800 0857 989.
Initial call – we'll give you a call, so you can learn more about fostering, the children we work with and the wrap around support we provide to our foster parents, plus answer any of your questions. If you're ready to move forward, we'll ask you a few questions and arrange a home visit.
Home visit – one of our team will visit you at home, where we'll spend more time getting to know you and vice versa. The visits tend to last between 1-2 hours and are a fantastic opportunity for you to find out everything you need to know to decide whether fostering is right for you. These can also be completed virtually via a video call.
Apply to foster – you'll need to complete an application form to be considered to become a foster carer. If successful, you'll be allocated an independent assessing social worker, who start your fostering assessment.
Assessment and training – your fostering assessment will include a series of social work visits with an independent assessor and various background checks, including a full DBS and local authority checks. You'll also attend our preparatory foster carer training course.
Panel – once your fostering assessment report is complete, you'll be invited to a fostering panel. This is where an independent group of individuals from various backgrounds, including social work, education and care experienced young people, will make a recommendation on your suitability to foster.
Approval – the recommendation from panel will be reviewed by our decision maker, who will make a final decision on your approval. You'll receive the final decision within 10 working days of panel.
Expert matching – once approved, you'll be introduced to our dedicated referrals team, who will get to know you and learn about your experience and preferences, so they can expertly match you with children.
Who can apply to become a foster parent?
We welcome individuals from all walks of life to join our team of foster parents. You can be:
Male or female;
Single, married, divorced, co-habiting;
Straight, gay, bisexual or transgender;
From any ethnic group or religion;
Any age over 21 – so long as you're fit and healthy, and able to meet the needs of a child in care.
Of course, you'll need to meet the initial criteria to foster, which are that you're over 21 years old, have the legal right to work in the UK and have a spare bedroom that's always available for a child in care.