"It's not just about having a spare room and feeding them"
A Jamaican born foster parent explains how her childhood was one of the reasons why she chose to foster and help children who needed a loving and caring environment.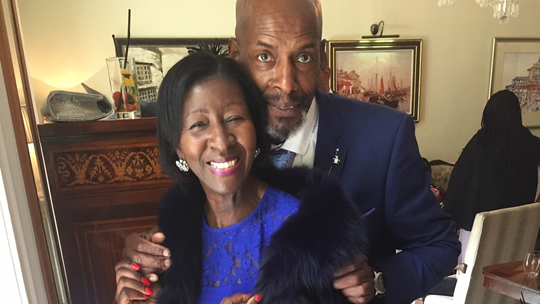 "It's about providing a loving and caring environment."
Murna began her fostering journey with ISP in 2008 when her birth children left home to start their own family life. During this time, she married and has been fostering with her husband Blue since 2013.
During their 12 years of fostering, the couple from Milton Keynes have supported 13 children and young people from a mix of cultures for both long and short term care.
Having children that had grown up was just a small part of why Murna was so passionate about becoming a foster parent. After living a sheltered childhood in Jamaica for 7 years, the 62-year-old had always understood the importance of growing up in a loving and caring environment, despite not having one herself.
At just 6years old, Murna's parents passed on the responsibility of caring for her to her grandmother when they left Jamaica to move to England.
"I was lucky and felt very blessed, as my mother left me in the care of my grandmother, who loved me dearly and with her around I felt very loved and extremely safe and secure."

Sadly, just a few months after her parents had started their journey to England, Murna's grandmother passed away in the night.
"I felt lost and scared, as I didn't have any family members in the house that I felt connected to. I became the housemaid, sweeping the yard, milking the cows, climbing hills and bringing the pigs back when they ran away.
"Some days I felt like I was actually carrying the pigs on my back, fetching water from up the hill and if I spilt a drop, I would get ordered to go back to the reservoir and top up and when I got back, as a punishment, I would have nothing to eat. At dinner time I would have to sit on the floor at one end of the veranda with my head looking to the floor whilst everyone else in the house would be eating.
"They used to do this to me before my grandma died. She had no idea, as this was whilst she was at work on the farm. When she came home, they would present her with her dinner and tell her that I had already eaten.
"My Nan would take a look at me and call me to sit on her lap and before she put a mouthful of food in her mouth, she would put a spoonful in mine and whatever she had, we would share."
Months later, Murna's parents sent for her and she travelled on the BOAC from Jamaica to England, alone and frightened.
Fast forward 50 years, Murna is married and has two birth children aged, 43 and 40 and six grandchildren aged from 6-19. The couple also care for three foster children, one of whom has been with them for 8 years. Murna says they are more like their own children.
Murna's past experiences have enabled her and Blue to provide so much love and support to the young people coming into their care.
Murna reveals: "Like many of us who were born in the Caribbean, some of us have experienced loss, abuse and separation from an early age. Many of the children we have cared for over the years have suffered loss, abuse and separation, so I can empathise and recognise that sometimes the outbursts that we see are not always bad behaviour but often fear of their environment."

A young boy who previously feared his environment was James*, who has been with the couple for eight years after experiencing a very difficult start to his childhood which carried through to his school life.

"When James started school, it was a very difficult time for him. He became angry and his peers at school became scared of him, resulting in him being removed from the classroom. I was always called to pick him up when he got angry. I would always go to the school but never took him home. I would sit with him and calm him down and as he settled, things started to improve."
James is now 14 years old and was a page boy at the couple's wedding. He's been to Jamaica on holiday twice, fundraised for children in need in the Caribbean and the UK and raised £200 by walking up Blue Mountain, washing neighbours' cars, gardening and running errands.
When he left Junior school, he had achieved 100% in all his SATs and now at senior school, he is in top sets for all subject groups and exceeding all his targets.
He says he's looking forward to going to College and University to become a graphic designer, earning a lot of money to take his foster parents on a holiday of a lifetime!

James is a shining example of how a child can flourish in a loving and caring environment and therefore Murna wants to share this piece of advice with anyone considering fostering or is about to become a foster parent:

"To be a good foster carer you need to have the heart, understanding, patience and passion to care for a child who has been traumatised through separation and loss.
"Some children come into care who have been rejected by their families and left with little or no support. Children may have been uprooted and moved homes many times, leaving behind families, friends, belongings, sometimes precious memories. These experiences can leave strong feelings that often turns into anger or mistrust of adults, so you have to be prepared."
If you'd like to learn more about becoming and foster parent and the therapeutic services we provide to children, enquire online today or speak to our team on 0800 0857989.