Looked after children and education
When a child comes into our care, they may have been in several foster placements already. This means their education is likely to have been heavily disrupted by having to change schools frequently during key stages of their learning. School is often an escape for children who have been abused or neglected, or it's the only time they get to see friends.
Being taken away from their family, and then their friends, is really difficult and quite a traumatic experience. Not only that, but the expectation to attend a new school and immediately cope and conform to the rules can be extremely challenging.
That's why getting a foster child into school can sometimes feel like a daily battle. They could feel anxious about having to meet new people again or explain that they're in foster care. Perhaps their grades are down due to a poor home life or inconsistency with foster placements, and as such, they've given up on themselves. Or, they could simply feel too overwhelmed with the various changes that are out of their control.
At ISP, we strive towards giving children with complex needs a secure future, and we know that supporting a foster child's education plays a huge role in that.
How does foster care affect a child's education?
Being removed from their birth family is a highly distressing experience for most children, regardless of the treatment they received at home. When a young person experiences trauma during the early years of their life, their psychological, social and emotional development is impacted. This can make learning difficult for some.
Being in foster care can affect a child's school life in a number of different ways...
Moving schools during key stages of their education
Consistency and stability within the school environment helps children develop relationships with their peers and teachers, keep up-to-date with their learning and progress in a smoother fashion. When a child needs to move school after being placed into foster care, or perhaps has to change school because of exclusions, it can be very disruptive. There might be different curriculums or methods of teaching that make it hard for children to pick up where they left off.
Looked-after children in school can face bullying
Sadly, children are known to make unkind comments when faced with someone who is different to them. Rhetoric such as 'your family doesn't love you' and 'nobody wants you' can be extremely harmful to young people who are trying to heal from their troubled pasts. When a child is bullied, school is no longer a safe space for them, so it's understandable that they'd want to avoid school with feigned sickness or truancy.
The child's background might not be shared with all teachers
This can be problematic, especially in secondary schools where young people have multiple teachers that change regularly. While teachers will know the child is in foster care, all the reasons why don't necessarily need to be disclosed with everybody. This could mean teachers may unknowingly trigger fear, anger or past memories through the content in their lessons, and cause the child to have an extreme emotional reaction.
They could have undiagnosed additional needs
For example, a child may have dyslexia but it's gone unnoticed due to being neglected in their previous home. Being asked to read in class or do work they find too difficult can lead to feelings of stress, anxiety and embarrassment.
Friendship groups are already established
When a child joins a new school halfway through the term or year, it's highly likely that friendship groups are already established. This is why looked-after children in school may find it more challenging to make and maintain friendships, which can isolate them and force them to withdraw.
Being in care can knock their confidence and self-esteem
The devastation of being in foster care can play havoc on a child's self-worth. They may think they're a failure, or believe that they're the cause of their family's breakdown. These strong, negative emotions can have a ripple effect on their education, as they might feel unmotivated to apply themselves at school.
Anxiety, depression and other mental illnesses
If the child in your care is living with any sort of mental illness, attending school can often feel too overwhelming or possibly triggering. Mental illness can be all-consuming, leaving little room for the ability to learn. Unfortunately, the majority of young people in care have had traumatic pasts, which can make them more susceptible to mental health issues.
Their trust in adults and authority figures has been shaken
Due to abuse, neglect, domestic violence or substance misuse, children who have experienced complex trauma tend to have difficulty trusting the adults around them. They've been let down by the very people who were meant to love and care for them. This betrayal and maltreatment might manifest in rebellious or challenging behaviour towards figures of authority. This deep-rooted mistrust is likely to follow through into the school environment too, which can sadly lead to class removals, suspensions or even exclusions.
They could lack a sense of belonging
When we feel like we belong somewhere, we're more likely to thrive in that environment. We feel comfortable, confident and assured in our surroundings. However, when a child hasn't had a consistent home or family, their sense of belonging can be shattered. Even if they're kept in the same school during foster care, they might feel detached and withdraw from engaging in lessons.
They could replicate abusive or bullying behaviour learned from parents
While some looked-after children in school may be the target of bullies, some children in care may become the bullies themselves. As the saying 'hurt people, hurt people' goes, they might want other people to feel pain like they have. Or they might simply replicate behaviour they learned in their turbulent family environment, and not actually be aware they're being a bully. It may also be that they feel the need for control due to everything in their home life being out of their control.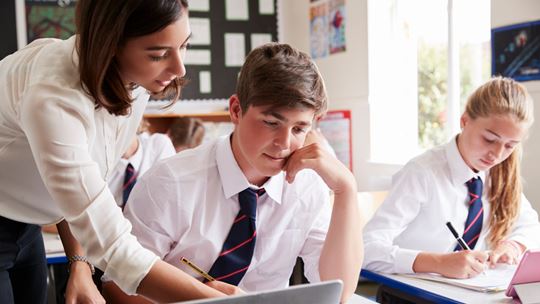 School's role in supporting looked-after children
Schools supporting looked-after children are the ones that are helping vulnerable children reach their full potential. Without the school being empathetic about a child's circumstances, or on board with their needs, they have less chance of achieving academic success.
At ISP, the partnership between a foster parent, the school and dedicated advisor teachers for each child is a collaborative one.
Let's take a look at the school's role in supporting looked-after children...
Supporting the child's needs
To support looked-after children's education, a school must first and foremost treat each child as an individual. From special education needs and disabilities to being sensitive about their difficult pasts, it's important that the child's school is able to support their needs. A child or young person might have additional needs that are still undiagnosed, so it's also about spotting signs that indicate they need extra help.
Being aware of safeguarding issues
There might be certain classes that present a safeguarding issue that mean special measures are put in place to protect the child. For example, a young person may feel uncomfortable changing in a shared locker room for P.E. due to exposing self-harm scars or because they've been sexually abused and it's a triggering experience for them.
Good schools supporting looked-after children and their welfare will ensure the relevant teachers are notified and that a safe space for the child to change is set up.
Individual education plan for looked-after children
They could require an individual SEN plan (special education needs). Each child with SEN is entitled to receive up to £6,000 in funding from their school per year. There are 2 stages of support for meeting the needs of children with SEN: Additional SEN Support and an Education, Health and Care Plan (EHCP).
Free school meals allowance
A premium grant is also given to looked-after children whose parents wouldn't normally benefit. This foster child free school meals allowance means children get a healthy, nutritious lunch which is important for their physical and mental health.
When a child first attends a new school, even the smallest thing like asking for directions to the toilets can be embarrassing. This is why it can be super helpful to identify a key person that can act as the child's mentor, so if they have an issue, they know who to go to.
This is also true of safe spaces to decompress if they're feeling particularly vulnerable, such as a Learning Support room or library. For children with autism spectrum condition (ASC) or ADHD, a sensory room might need to be set up.
Assess, communicate and mediate any problems
Past trauma and being in foster care can lead to children developing patterns of behaviour that they have used in the past to survive. These behaviours may be disruptive or attention-seeking, for example. In the classroom, this not only hinders their own learning, but those around them too.
The last thing anybody wants is for a looked-after young person to be at risk of exclusion or fall into a cycle of being repeatedly suspended. This means schools, foster parents, social workers and the local authority work together to find solutions so that the child can get the most out of their education and reach their full potential.
Education support for looked-after children who have special needs or disabilities also includes help with exams. Special arrangements can be made where they have 25% extra time, or they sit in a separate room with a smaller group of young people with similar needs.
There are lots of ways schools can support students to make the exam process easier, especially when they are significant leaps behind their age-related expectations.
How can foster parents provide education support for looked-after children?
There are several things you can do as a foster parent to set the child in your care up for success at school. Here are some valuable tips that can make a really difference to looked-after children's school attendance and overall attitude to learning.
Ask them how they want to refer to you as at school

Some children might not want their classmates to know about their foster care situation, so calling you 'mum' or 'dad' at the school gates could be a way to help them feel more at ease in their new environment. Other children may prefer to call you 'aunt' or 'uncle', or simply by your name. It's important you have that conversation early on, and follow their lead.

Keep an open line of communication with the school

As a foster parent, it's your responsibility to inform the school of any significant changes or issues in the child's life so they can accommodate accordingly. You will also benefit from attending open evenings and other meetings so you can get to know their teachers and stay up to date with their progress.

Discuss the child's history, triggers and any specialist needs with the school

As we've discussed, the school's role in supporting looked-after children is dependent on them knowing as much as possible about the child in your care.

Help them with their homework

Many children in care will have lacked support and attention, particularly those who have a history of neglect. From helping with homework to spending time reading, drawing and learning new things, you can help enrich their lives and open their eyes to being inquisitive and curious. Plus, it's a great way to strengthen your relationship and make fond memories.

Discuss ambitions and long-term goals

Sadly, a lot of children who have lived in fear or been left to fend for themselves might not have considered a positive future before. It's important you encourage them to have dreams and ambitions for themselves, and that they're worthy and capable of achieving them.

Discuss the importance of school attendance

We understand that getting a child in care into school each morning might not always go smoothly. However, children are expected to attend school 95% of the time. Schools will produce a Regulation 35 report for Ofsted on a quarterly basis, and they want to know about children that have been absent for 15% or more of school time.

Sickness is inevitable, but if you think the child in your care is feigning sickness regularly, refusing to go to school altogether, or you discover they're playing truant, ask them about their anxieties and what can be done to alleviate them.

Stand up for them if they're being bullied

Not all children will open up if they're being bullied, so the trust you build with the child in your care is vital in helping them feel comfortable in coming to you with issues. If they tell you they're being bullied or you notice signs that indicate they might be a target of bullying, contact the school and lean on your ISP education specialists and support workers to help put an end to this behaviour.

Likewise, explain the impact of bullying if they're the perpetrator

When you foster a child at ISP, we practice the approach of therapeutic fostering, which means seeking the source of a child's emotions and actions. In a case where the child in your care is bullying other children, it's about doing restorative work to break the cycle.

Ask questions like 'what happened?', 'why do you think you acted in that way?', 'why do you think you said the things you said?', 'how would you feel if someone did that to you?'.

Support them through exams

Exams often come with a great deal of anxiety and stress. This can be exacerbated if a child doesn't revise, and starts to panic closer to the exam date. If you're involved in their exam preparation and set realistic revision routines and schedules, you can help ease the pressure felt from exam months.

Also, who is to say you can't make it fun? Go to a local café to study where they can have their favourite hot drink, or come up with unique ways to explain something based on whether they're a visual, auditory or kinesthetic learner.

Finally, encourage them to just do their best

The children in your care will have had a lot of obstacles in their life, so when they make a breakthrough in school, no matter how big or small, shower them with praise and celebration.
Already fostering?
Whether things aren't working out with your current agency or you want to hear about the fantastic work we do at ISP using therapeutic fostering, we'd love to hear from you.
Get in touch today and our fostering experts will be on hand to answer your questions.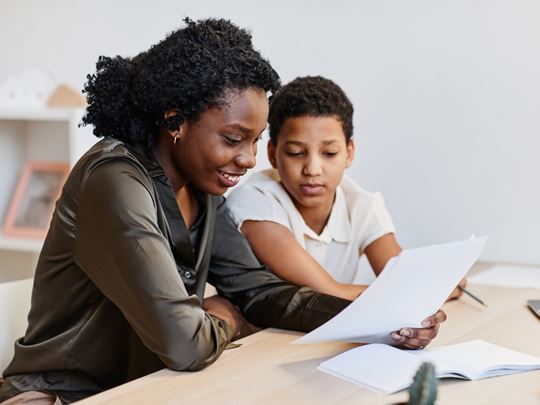 We support you and foster children in education
At ISP, we want all of the children in our care to come out of school having had a positive, inspiring experience, with qualifications to boot. To support foster parents, we ensure that all the professionals in the child's network work collaboratively with the school to achieve the best possible outcome.
Another key part of this is training. Once you become an approved foster parent, we offer Helping Children Succeed at School training, followed by training around anxiety and education. As well as this, our education specialists attend meetings, give advice to foster parents, work closely with local authorities and communicate with the school's liaison officers.