"It feels like Jessica was always meant to join our family"
Andy and Ran have welcomed their first foster child into their home after being approved as foster parents and share their journey so far...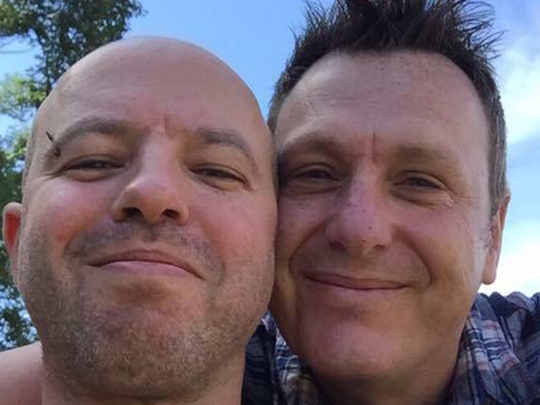 Andy and Ran have recently welcomed their first foster child into their home after being approved as foster parents in November 2019.
The couple have always had the desire to foster children and give something back to the community, but with working full time and with Andy juggling a high-powered job in finance, their busy lifestyles just didn't suit.  Moving to Brighton enabled the couple to slow down and take their first step.
Here they share their experience right from the application and assessment process through to welcoming their first child.
The fostering process
In November last year, we were overjoyed when we received the news that we'd been approved as foster parents. The process took around six months, and during that time we received group and one to one training which we found extremely enjoyable.
We were lucky to be accepted before the pandemic, which meant we were able to look after children on a short-term basis for two months before we welcomed Jessica*. This was great as we were able to learn a lot from the children and the experience confirmed that we'd made the right decision choosing to foster.
Welcoming Jessica came with its challenges due to the pandemic, but we didn't let that stop us and continued with the process, thanks to the fantastic ongoing support we received from ISP.
During the fostering assessment process, we attended a Skills to Foster course which gave us a great insight into fostering and what the process involves. We had a brilliant assessor who covered all aspects and went into great detail, which meant we had no surprises when we welcomed Jessica.
The training sessions were fantastic and provided a great foundation to build on. They gave us an insight into how we needed to prepare and made us more determined to give children a brighter future.
Since Covid-19, the majority of the training sessions have been conducted virtually on Microsoft Teams. The virtual therapy sessions have been very useful. We've been split into groups where we discuss issues that have arose with foster children and as a group we help to identify solutions, which has been really beneficial.
Introductions with our first foster child
Due to coronavirus, we weren't able to visit Jessica initially. Normally, we would meet Jessica face-to-face, take some time out and enjoy day trips together. But instead, we had to introduce ourselves virtually via numerous video calls.
Jessica was amazingly confident, she sang for us and was very grown-up, telling us what she liked and what she didn't like. We spoke about our family and her family and really got a feel for each other during the video calls.
We produced a welcome book for Jessica, including photos of us and our pets, and gave her a virtual tour around the house. It gave her a chance to familiarise herself with her new surroundings, so it wouldn't be so daunting for her when she arrived.
We have lots of animals, two dogs, two cats, two chickens, and ducks, therefore we wanted to ensure that Jessica was an animal lover, because we know the therapeutic benefits they can have on children.
Once lockdown restrictions eased, we arranged to meet Jessica face-to-face, while socially distancing. After this meeting, the process has been finalised and we ended up picking her up the following Thursday.
Normally, Jessica's social worker would bring her to her new home, but due to new government guidelines, her social worker wasn't able to do this. Jessica's social worker did however meet us there on the day while adhering to the new measures, to oversee the process and to provide a familiar face for Jessica.
We found out that Jessica's favourite singer was Ariana Grande, so when we picked her up we came armed with a signed photo of Ariana Grande to go in her bedroom. We wanted to show Jessica that we care and that this wasn't just another move for her.
The arrival
As soon as Jessica arrived she just took to our animals straight away, which was lovely to see. She spends an equal amount of time with all the animals, but she definitely has a soft spot for our cocker spaniel. We weren't surprised though, as he gives the best cuddles!
It was quite challenging welcoming our first child into our home during a lockdown. Homeschooling was completely new to us and Jessica didn't take to it straight away, so we tried to make it a bit more fun for her. For example, for English, we told her she could write a song or make a poem about her move to Brighton, and about Dylan the dog. With maths we did BBC bitesize, but also did a bit of baking to incorporate measurements.
Being at home more meant that we had a lot more time to give Jessica that 1-1 attention and interaction that she needed. It's meant that we've been able to do fun things together as a family, such as having water fights in the garden and playing lots of games that Jessica enjoys.
After 5 and a half weeks, Jessica started at her new school and we were surprised at how well she adapted to her new environment. It's a nerving time for her, starting a new school, making new friends, settling into a new home - but she's been extremely brave. Anything that has worried her she tells us about, which is reassuring for us.
Adapting as a family
We learnt quite quickly that Jessica has a passion for singing, so we set up virtual singing lessons for her, for half an hour once a week. Her intentions are to be a professional singer when she grows up, so we thought it would be a great way to help Jessica build her confidence.
It's still very early days, but one thing we've started to notice is that in the evenings she's more open to cuddling on the sofa. She's much more confident now and starting to feel secure in her surroundings.
When Jessica first arrived she followed us around, now she's more comfortable at having alone time, which was something that was rather foreign to her at the start.
Once lockdown restrictions eased, we introduced Jessica to another foster parent and their child, so she had someone her own age to talk to.
We also wanted her to have a female influence in her life. We're fully aware that while having two men looking after a young girl, she still needs that girly time.
We have however made it clear that she can talk to us about anything and have set up a network, so she doesn't feel intimidated in any way.
We feel that we've done as much as we can to really integrate Jessica into the family.
We've had the ultimate support from ISP and feel that everything has fallen into place. It feels like Jessica was always meant to join our family.
It's important to ISP and has been highlighted throughout the process that we're perfectly matched with a child. The support we've received throughout the whole journey has been phenomenal and we couldn't wish for a better agency to join.
Not only do ISP support the child, but they support us as a couple as well. If you'd like to learn more about how to become a foster parent or LGBT+ fostering, then please get in touch with our friendly team on 0800 0857 989 - we'd love to hear from you.