Let's get messy - Play ideas for children with Autism
Playtime with your child with autism can be a fantastic way to strengthen your relationship with them and help them grow and develop. Here are a few messy play activities we can all enjoy.
Messy play activities can be a fun and engaging way for children to explore and learn.
While every child in care is unique, playtime is an essential part of their development. For children with autism, playtime can help develop their creativity, individuality, imagination, problem-solving skills, relationship dynamics, and self-regulation.
Autistic children often have sensory processing difficulties, which means they may have an atypical response to sensory stimuli such as sound, touch, taste, smell, and visual information. Sensory spaces are designed to provide a safe and structured environment where autistic children can explore and regulate their sensory experiences.
In the video above, ISP Therapist, Marnie Clayton-Slater, shares some tips on how to create a sensory space in your home for an autistic child, as well as some ways in which you can support them with regulation.
6 Messy play ideas for children with autism
Play is the natural way for children to learn about the world, their environment and communication. Whilst every child in care is different, playtime is vitally important for helping them to develop their skills.
Allowing the opportunity to develop creativity, individuality, imagination and problem solving skills, playtime with a child with autism can also benefit development of relationship dynamics and self regulation. Different activities will elicit varying responses with each autistic foster child being different, so it is all about learning what your child enjoys and helping them thrive and develop!
So, with our play clothes on, what are a few messy play activities we can enjoy?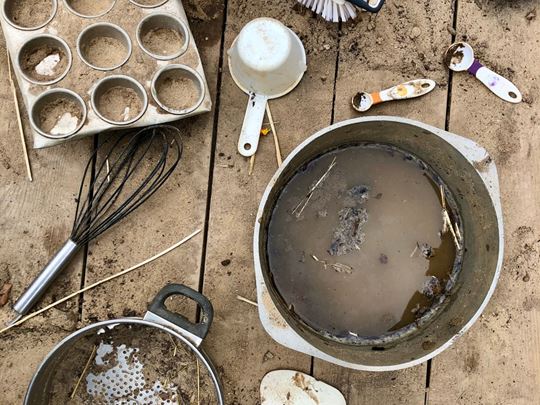 1) Mud Kitchen
Perhaps a warmer weather activity, a mud kitchen is a popular choice when it comes to outdoor sensory activities for children with autism.
This allows for each child to express themselves individually, experimenting and creating in whichever manner takes their fancy. With mud, water and various utensils (we would recommend some specifically for this activity, rather than using your kitchen bowl!) your child will be able to play baking or cooking, build various shapes and structures or simply mash and scoop the mud at will.
2) Finger and Foot Painting
Preparation is key for this one - make sure you have some newspaper or a nice big sheet or something down first. Then simply put some paper on top of it, provide the paint and let your child create a unique piece of art using their hands and feet.
Check out 13 easy hand and footprint art
3) Pouring Station
Simple to set up, this activity can be inside (for example in a bath) or outside if weather permits. Using a variety of different sizes and shapes of containers, add water to these with some drops of food colouring across them to bring another dimension to the experience. Your child can then pour water between the containers, learning what happens when the colours mix whilst also enhancing their fine motor skills.
4) Bubble Painting
Another simple recipe here, as you just need to mix paint with water at a 1:1 ratio. Squirt in a bit of washing up liquid and you're good to go! If your child is able, add a straw in each colour and your child can blow through the straw to create some colourful bubbles. Once they have been created, you can then use these bubbles to paint, either by spooning them onto your paper or by pressing the paper onto the bubbles in situ.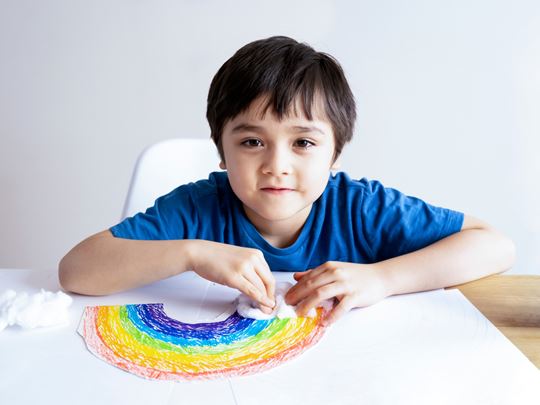 5) Cotton Wool Painting
Yes, another painting one we're afraid, but this offers a much more tactile activity, with cotton wool a very different sort of texture to those we've discussed so far.
Using diluted, water based paint, cotton wool balls and sheets of paper taped to an outside surface (one that is likely to get paint on, although the right sort of paint will just wash off) it is an easy messy play opportunity for the child in your care with autism.
By dipping the cotton wool balls into the paint and throwing them at the paper, they are able to create a unique piece of art whilst experiencing a multitude of sensory stimulations and providing development of motor skills as well.
More fine motor skills ideas
6) Soapy Slime
Finally another outdoor activity, which will definitely get messy! Soapy slime can be made with soap flakes, warm water and food colouring, all beaten together to create the mix - note that this multiplies as you beat it so make sure that you are using a large enough container.
Similarly to the mud kitchen, this mixture can be given to your child to allow them to play and learn through their own motivations. You can provide utensils and containers for them to use as they wish, with the option of multiple colours of slime providing some mixing opportunities.
For some more messy play activities for your child with autism have a look at our halloween blog which has additional ideas of what you can do to help develop your sensory and messy play with the child in your care. The benefits of a lot of these activities go much further than just 'playtime', with the sensory engagement in messy play an important part of developing communication and social skills alongside the emotional regulation and motor skills.
Fostering a child with autism isn't always easy, but at ISP we have the expert knowledge in therapeutic fostering to help you care for children with autism so they can thrive. If you're thinking about fostering, or are already fostering a child with a disability and want to know what additional benefits you could get with ISP, please get in touch with our friendly team and we'll answer any questions you have.
Other articles you might like...