6 Sensory Halloween Activities For Your Autistic Child
Check out these spooky sensory game ideas that are great for getting your autistic foster child involved in all the Halloween fun.
The benefits of sensory play and autism
Sensory play is a great tool to encourage children with complex needs such as autism spectrum disorder (ASD) to learn new skills and help with their cognitive development. People with autism process sensory information differently, so bright lights, loud noises and certain smells can cause severe distress. 
By engaging all five senses in a fun and calming way, sensory play activities help children with ASD improve their emotional, physical, social and communication skills, as well as learning how to regulate their emotional response to sensory triggers.
The main benefits your autistic foster child will reap from sensory play are:
Brain stimulation – when the brain is engaged and stimulated, more neural pathways are created. This can help your child with how they process sensory information.
Social skills – for children with autism, socialising doesn't always come easy as they struggle with social boundaries and cues. Play can help encourage social development as it involves sharing, taking turns and listening to instructions.
Language skills – whether your foster child is playing on their own or in a group, playtime involves communication in various different forms. From making up dialogue during roleplay to expressing joy through laughter, playing is a great way for children with autism, including those who are non-verbal, to communicate with others.
Emotional regulation – exposing autistic children to new textures, smells and tastes helps them learn over time how to respond appropriately to different sensory triggers. Through sensory play, it's done in a fun and controlled environment, making the experience positive and instilling confidence.
Fine and gross motor skills – many sensory play activities involve handling objects or manipulating materials, which helps children with additional needs improve their motor skills and hand-eye coordination.
6 sensory Halloween activities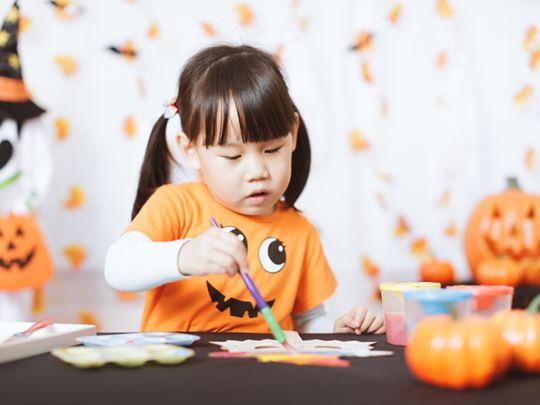 Mystery monster bin
This is seriously gross but so much fun! See if your little ones can pick out the 'body parts' of this spooky sensory bin. To recreate different parts of the monster, simply dye cooked spaghetti using green and black food colouring and you've got yourself slimy veins; smash up some chilled red jelly for gooey brains and prepare a bunch of lychees for some realistic looking eyeballs. Put them inside a covered container and let them squish the food around in their fingers. Bonus points if they can identify what is what!
Scary slime
Slime is super easy to make and even better to squidge in your hands. Mix together cornflour, water and food colouring to make your slime and add in toy spiders, worms and other creepy crawlies. This provides an interesting contrast in textures and gives your foster child the fun task of picking out all the bugs!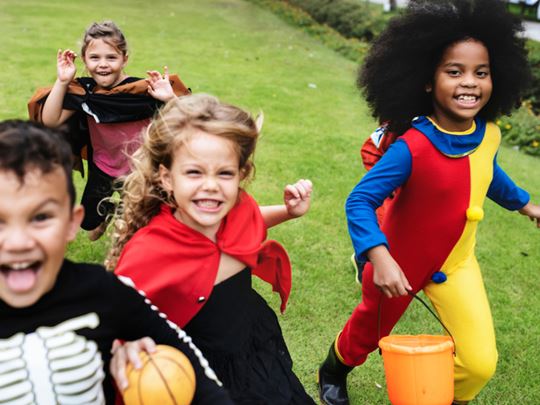 Witches' cauldron
Similar to the monster bin, but this time you let your child with autism make their own witches' brew. Get yourself a toy cauldron and set out all the different 'ingredients' they can add in to make their potion. Use cooked rice with pink dye to recreate the look and feel of maggots; have a tray of crispy autumn leaves for a unique texture; fill a bowl with coloured water beads that you can pretend are magic jewels and get a box of bone-shaped dog biscuits to recreate spooky skeleton bones they can crush up. It's fun, interactive and gives them a sense of independence, helping to boost confidence.
Pumpkin decorating
While traditionally you'd scoop out the insides of a pumpkin and carve out a freaky face, this activity doesn't have a sharp tool in sight. Instead, why not decorate the outside of a pumpkin with different textured objects that your autistic child can feel and play with? Assisting them, simply glue things like feathers, beads, uncooked rice and pasta, sequins and sponge to the pumpkin in a cool pattern around the pumpkin for a totally unique Halloween decoration that is also a sensory toy.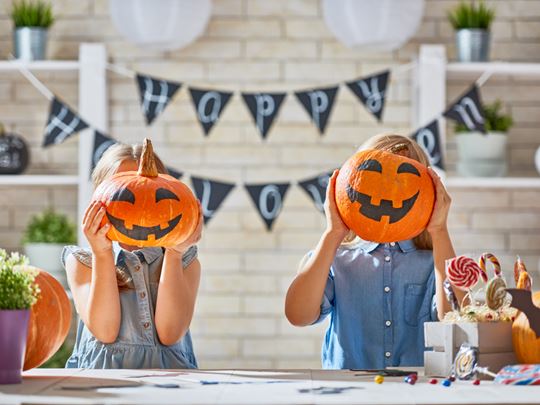 Glow-in-the-dark spiderwebs
This is a great multisensory play activity for children with autism. While they're not edible in the sense you should feed it to them, it's safe enough for children who have a tendency to put things in or near their mouths. To make your spooky spiderwebs, you'll need thin rice noodles, edible glow water and a blacklight to really make your webs glow-in-the-dark. Cover the noodles with your glow water and leave them until they begin to soften and separate, before dabbing them dry with a paper towel. Turn the lights off, put the blacklight on and let your foster child put the webs over their arms and legs for a multisensory experience!
Make your own ghosts
Who would have thought ghosts are made out of baking powder and shaving foam? This simple sensory activity is sure to be a winner this Halloween. It's cold, can be moulded into different shapes and is squishy as well as fizzy! Mix together baking soda and shaving foam in a large container, add some black buttons that can be the eyes and watch as your ghosts come to life. For another dimension to this roleplay, let your foster children squirt vinegar over the ghosts so they can be real life ghostbusters. The foam will fizzle and you've got a new texture to get stuck into.
Fostering a child with autism isn't always easy, but at ISP we have the expert knowledge and practice in therapeutic fostering to help you care for autistic children so they can thrive. If you're thinking about fostering, or are already fostering a child with special needs and want to know what additional benefits you could get with ISP, please get in touch with our friendly team and we'll answer any questions you have.