"They're part of the family now and I love them dearly"
Sam and Stuart share how emergency fostering has been their best experience yet and why they're encouraging others to follow in their footsteps.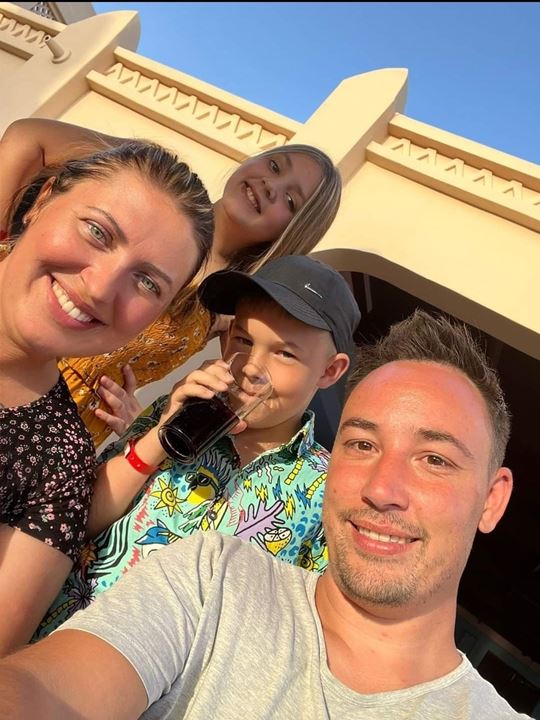 Sam and her husband, Stuart, based in Teynham, started their fostering journey with ISP 8 years ago, along with their two birth children, aged 9 and 11.
Today, the family share their fostering experiences so far, including their experience being part of an emergency out-of-hours fostering team in the hope that others will follow in their footsteps.
Over the years, Sam and Stuart have cared for many different children who have desperately needed a foster home late at night or during the early hours of the morning. These types of foster parents are known as emergency out-of-hours foster parents.
One emergency referral that stands out for Sam was welcoming three siblings into their home. It was the children's very first experience of foster care when nobody arrived to pick them up from school.
Sam explains: "It felt different for me doing emergency placements because quite often, my experience had been with kids who knew the care system, whereas these young people just didn't have a clue about what to expect.
"They were just so nervous but very affectionate and we all just took to each other almost immediately. They just wanted a hug and to know that things were going to be okay".
Sam recalls the moment the eldest sibling broke down in the middle of the night: "I remember hearing this wailing noise on the first night, so I walked into his room and he was breaking down, just completely panicked and asked, 'What's happening to my mum?'"
"He just hugged me and sobbed. It broke my heart and made me feel so protective over them. I just wanted to do whatever I could to make this easier for them."
After a couple of weeks in their care, the children were then moved to a foster family who lived much closer to their home town. While Sam's family were sad to see the children go, deep down they knew this was what was best for the children.
Shortly after saying goodbye, Sam received another call from the out-of-hours team just after midnight regarding two sisters. Sam recalls: "We were just about to go to bed and I saw my phone ring. I was shattered but I looked at my husband and he was like, 'We can't leave it, we need to take it, someone needs us'. So I answered the phone and I'm so glad I did because one year later and they're still here with me now."
The children arrived in the early hours of the morning and just like the children before, it was also their first experience of the care system: "They were absolutely petrified and exhausted. They'd had a whole day of dealing with the police, schools and questioning. But like I say, they're part of the family now and I love them dearly."
With out-of-hours referrals, children will often arrive feeling frightened and anxious, so a warm, friendly smile really can go a long way in helping them settle.
Sam explains: "I'm naturally quite a warm and welcoming person I would like to think. Children just need to see a friendly face. It's the way you talk to them and your body language. Just having a soft tone and a smile is all they want at that moment, and answering as many of their questions as you can.
"You know, it's just about being there for them. I try to picture how my own two children would feel in that situation and how I would like somebody else to treat them, and welcome them, and just be there for them."
Being signed up to receive out-of-hours referrals may seem daunting, and there are a number of things that Sam believes may be holding people back; the lack of information being one of them.
However, Sam has found the children placed with her through the out-of-hours referrals service to be her most rewarding, she explains: "When you do emergency fostering, the referral is often literally just age, gender, ethnicity, allergies and any other urgent medical information that you need to know, and that's kind of it. So you are almost going in blind but I have had two of my best fostering experiences done that way."
"Sometimes we think that having lots of information on the referral is everything we need to know and it's really not. Like any child, take them at face value and assess them for yourself because they can all be different and actually you could be really helping and making a difference in an urgent situation where they just need somewhere safe and a smiley face. I would recommend everyone to do it."
Another common misconception is that children who need a foster home through the out-of-hours service are generally those who have had a placement breakdown and will therefore be extremely difficult. However, this simply isn't the case.
Sam explains: "I had made the incorrect assumption that it would be foster children who are perhaps having a chaotic moment and need to be moved somewhere else. I'm sure at times that happens, but that's not been my experience. Through the out-of-hours referrals service, I've cared for children where it's been their first experience in care. They've got no expectations and you're kind of just learning together, and that's been nice."
The couple's children have also had an enjoyable experience, Sam said: "They get really excited and quite like the idea of waking up and having all these new children in the house. I ensure to talk to them very mindfully and remind them that the children might be very scared and may need some space, but they've learned a lot."
Sam's advice to anyone who has not signed up to receive out-of-hours referrals is: "It always comes down to having a bit of confidence. I can only speak for myself, but when I was a new carer, I wasn't the most confident. But as time went on, I realised that I knew what I was doing and that they're just kids at the end of the day. They're just kids that need to feel safe and secure in that moment, and I can do that."