Ruth and Steve's Story as Respite Foster Parents
Ruth and Steve became respite foster parents a year ago after seeing the difference their neighbours were making to children in care. Today, they reveal what life is like as respite foster parents.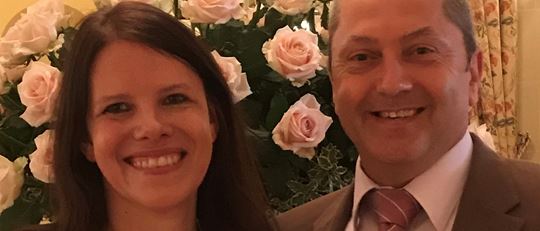 Ruth and Steve reveal what life is like as respite foster parents.
Ruth and Steve, two respite carers based in Northampton, started their fostering journey in March 2019 when they saw the incredible fostering work their neighbours were doing. Wanting to help, they became their neighbours Accredited Carers. This allowed them to care for their neighbours' foster children when they needed a break.
Being an Accredited Carer enables individuals to care for children that they already know.
However, Ruth and Steve loved the experienced so much they wanted to extend their services to other children placed with ISP foster carers. To this end, Ruth and Steve engaged in a full fostering assessment and were approved in September 2019 as short term foster carers specialising in offering respite care.
As respite foster carers, Ruth and Steve offer short breaks to children in the care of ISP. This can provide full-time foster carers with a much-needed break or give them the chance to catch up on training sessions if the children in their care aren't in school, for example.
As Ruth explains; "Steve has experience with children as he had a son who was 12 when I first met him. We've helped to look after nieces, nephews and friend's children. However, fostering someone else's child is a different experience.
"When you first welcome a child, especially for such a short period, it can be quite intense. It's a new experience for the child, so you need to make them as comfortable and welcomed as possible. Even just little things like showing them how to use the shower can be important first steps when they come over.
"For some of the older children who are more aware of what's going on, they may have been to several different respite foster parents, so the biggest challenge is to put them at ease and try to ensure that they enjoy their time spent with us."
To help children through the transition, Ruth and Steve put time into building relationships with the children beforehand, either visiting them or inviting them over to see the house. This can be crucial for building trust and reducing any feelings of anxiety before the stay begins.
"It's always important to make it clear that we want them to stay, and that nothing will be changing when they go back home – we attempt to make it feel like a holiday for them as much as possible. We pack their time with us full of activities such as baking, cooking and gardening as well as visits to parks, play areas and local places of interest where they may not have been before. We try hard to adapt the activities to suit the age of the children. When they go back home, we love seeing their faces as they tell their carers what they've done and showing them some of the things they've made."
ISP, the fostering agency who Ruth and Steve work with, have also been crucial in helping them overcome any challenges faced. Ruth explains; "We have our own ISP social worker and fostering advisor and both work incredibly hard to make us feel comfortable and supported.
"They provide us with as much information as they can when a new child is coming to stay to help us make them feel comfortable and at home. They're also always at the end of the phone if we ever need them."
To get started as respite foster carers, the couple found the approval process to be very extensive as fostering agencies have to perform in-depth checks to ensure children will be happy and safe with prospective carers.
"The approval process took about six months, and it was very detailed – they wanted to know everything about our lives, so you have to be prepared to be open and honest. We completely understood why though, and the intensity of the process was made clear to us from the beginning, which helped us to prepare."
For the couple, respite care is the perfect fit. Full-time fostering may be on the cards in the future, but at the moment, with Steve working full time and Ruth having other commitments, respite gives them the chance to make a much-needed difference.
"Before the pandemic, we would welcome children a couple of times a month, but we usually provide more periods of respite care during the school holidays as it's less disruptive for children. As we're not always local, it wouldn't be feasible to take children to school, but over the weekends and during school holidays is the perfect time to give other carers a break."
Over the past couple of months, Ruth and Steve had three periods of respite planned, but the pandemic meant they couldn't go ahead. Now, as they look forward, they're excited to be welcoming children back to their home.
"We know that the past few months have been really intense for foster families, and they may be eager for some respite. We're more than happy to offer them that chance, we've missed having children around and are keen to help others where and when we can."
For anyone considering fostering who may not be sure, Ruth has this piece of advice: "Respite is a brilliant stepping stone if you're not sure, or not quite ready to take on full-time fostering. It's an incredibly rewarding experience – not only are you helping youngsters make great memories, but you're providing an invaluable break for foster carers.
"The best part of our role is that, when you're a respite carer, just one day can make all the difference."
If you'd like to learn more about becoming a foster parent, then please get in touch with our friendly team on 0800 0857 989 - we'd love to hear from you.