"The first time they tell you they love you is an incredible feeling"
Young foster parents, Natalie and Aaron Harvie share their fostering journey over the past two years.
Natalie and Aaron, both aged 33, began their fostering journey two years ago after having such loving childhoods and wanting to provide the same for less privileged children.
Reflecting on their inspiration to foster and their reservations about fostering so young, Natalie said: "We have been approved foster parents for two years but we have been fostering full time for about a year and a half now. What inspired us was that Aaron and I have had very different childhoods but the one thing that's been very similar is that we have come from very loving backgrounds. We wanted to pass that on to other children who weren't in the same position. We've always talked about it since we were first together and so we decided to just take the leap.
"I was always a bit worried that we were too young to be foster parents and that we didn't have our own children. I was concerned that we wouldn't have enough experience but actually, every child is different so I don't think it matters if you have your own children or not."
When asked how being such young foster parents has been beneficial for them, Natalie said: "Aaron and I are very active with the children, we take them to the park, swimming, we do family activities quite frequently. I've found that because we're younger we've been able to integrate them with the family because we have nieces and nephews who are the same ages as our children and it's made them feel a part of the family."
The couple shared the importance of fostering siblings, Natalie said: "You can watch how they interact with each other and see a true side to them. It was really important for us to look after siblings, we said from the very start that we wanted to look after siblings just because it's traumatic enough being taken away from your mum and dad let alone your brother or sister. That would just be awful. I think it also gives our current foster children a safety blanket so they have each other if they feel a bit sad. When the house is filled with so much laughter, it's amazing."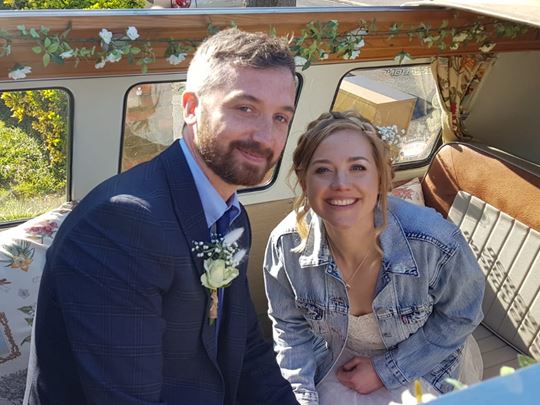 One of the most memorable moments for the couple was when their foster children attended their wedding, Natalie said: "Aaron and I got married last year and the children were there for the wedding. It was really important for the children to be a part of the wedding. Because we were in lockdown, we were only allowed to have eight people there so we just decided to have our parents and the children. Our foster daughter was my bridesmaid and our foster son was Aaron's best man. They still talk about it today. They had such a great time. Our little girl said to me when we were getting into our dresses, 'I really feel like I'm your daughter today'."
Another standout moment for the couple was something as simple as going to the cinema for the first time, Natalie added: "Taking the children to the cinema for the first time is a memory that will stay with me forever. The children had never been before and when we were there, our little boy's reaction was just amazing. He was just so excited in his seat, he didn't know what to do with himself. The smile on his face was amazing, he was just so happy. That memory will last with me forever."
When asked how the couple felt when their current children walked through the door, Natalie said: "It was absolutely terrifying. I remember my social worker was with us when they got dropped off. At the time, they were four and six, so they were very young and very excitable. They were just running around the house. The first day was amazing but very terrifying. However, you just go with it and have a lot of fun with them."
The couple reflected on the changes they have seen in the children since being with them but also how they have changed their lives for the better, Natalie said: "You can see they are now very settled and treat the house like it's their home. Before, they would just sit in their room waiting for us to tell them what to do. We just wanted them to treat the house like it was their own.
"For our seven-year-old boy, he had really low self-esteem and confidence and would cry a lot. He has so much more confidence now. It's also nice to see him get a hobby like football now. They just seem a lot happier.
"Our five-year-old girl was having a very difficult period with tempers but now after we've helped her manage her emotions a lot better, the frequency and duration of her temper tantrums have significantly reduced. Being able to see her control her anger has been really nice to see as well."
Natalie added: "They've made me realise how much of a strong person I am. The process has made me much more patient and understanding. They have just filled our lives with so much joy. I feel more complete and content now. They have changed our lives for the better.
"My advice to anyone thinking of fostering is just do it! Don't doubt yourself, just jump in the deep end and do it. You will get so much support from ISP to guide you through the process so you're never on your own. Just do it, you'll never regret it."
She added: "You get support from your supervising social worker which is really helpful, she is always on the other end of the phone. The children get weekly therapy which has helped us incredibly. You have access to counselling yourself which is really helpful as well. Everyone at ISP is so friendly and supportive. I've never felt alone with ISP."