"We've always been happy fostering for ISP"
Helen joined ISP almost 24 years ago and has cared for a whole range of children with a variety of needs, including mother and baby fostering, short-term, long-term and more. Today, she shares the highlights from her fostering career so far.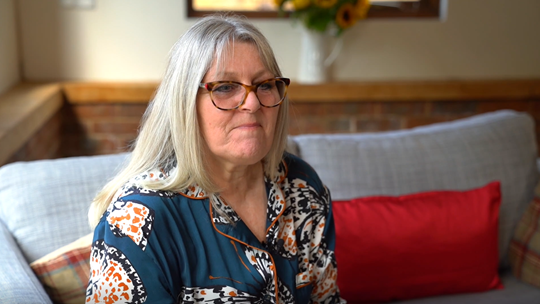 Helen and her family joined ISP almost 24 years ago, and have gone on to care for a whole range of children with a variety of needs.
Helen has provided a safe, loving home to lots of children over the years. Some of these children include a young girl on mother and baby foster care placement who now calls her 'mum', a beautiful young boy who she helped get to know his new adoptive family on a short-term fostering placement, and many more.
In this video, she shares some of the highlights from her fostering career so far and what makes ISP so special.
Video transcript
My name is Helen and I have been fostering for ISP for 24 years. I had been working in a therapeutic community for about three years and left to have my own children. And though I wanted to go back, I realised that there wasn't any way I could give that community the commitment that they required and have any time left over for my family.
So my partner and I thought long and hard about where we were going to go, and what I was going to do. And it was then that my brother suggested that we become foster carers and that seemed to make complete sense because it was a way of combining the job that I loved and the family.
The first child was an internal move. I believe the foster carers were moving abroad and she was 12. I remember my own children being so excited. She came to visit and they played hide and seek and she hid in the wardrobe. She was quite a big girl and the bottom of the wardrobe fell out and she was very worried. I said it didn't matter.
And after she'd left, my children turned to me and said, "Oh, can we keep her?" And she came to us for probably about two years. So she was the first young person that we fostered. It was very exciting, very new, and very scary.
One of the questions was, "How many children have we fostered?" And I think sometimes that people worry too much about that because it's dependent on all sorts of things. One young person we had for 14 years, another time, we had a brother and sister and they just stayed one night. All have impacted our lives in some way or another.
A very rewarding experience was with a little boy who was only four when he came. And we were able to sort of move him forward to a place where he could be adopted. That was wonderful to hand him over to his new mum and dad. I remember sort of mid-way through the introduction period, the mother turned to me and said, "he's golden". And I just thought, we've done a good job and it's going to be okay. He is going to be okay.
Many years ago, probably more than 15, we were asked to take an emergency placement for a 15-year-old girl who was 36 weeks pregnant. We had to help teach her. We had about five weeks after the child was born to teach her how to look after her child independently. And then she went to somewhere in Southend for a specific three-month parenting placement.
Unfortunately, that broke down after a couple of months. She had left us and we weren't expecting to see her again, but I got a phone call one afternoon and it was her. She was distraught and she wanted me to come and pick her up. Her parents didn't want her back. And so she called and I went and collected her and we drove away. About halfway home, she turned to me and called me 'Mum' and she's called me 'Mum' ever since. And we're in touch still now and she'll phone me out of the blue. And that was special.
Foster parent support has always been good and this is why we chose ISP in the first place. I know that there is somebody there 24/7. There is always somebody, even if it's not my particular fostering advisor, there are others who will know who we are and know our children. So there is always support.
I find it very rewarding to be a foster parent. It's clearly meeting a need in me. It is wonderful to see the children's successes, sometimes they're quite small and sometimes their moves forward are very tiny. Sometimes, they're maybe not seen until many, many, many years later in the way they bring up their own children. But yes, it's very rewarding.
We've always been happy fostering for ISP. We have a fantastic relationship with our fostering advisor and the manager here is great, and very approachable. We have no reason at all to foster for anyone else.