"We waited far too long to start fostering"
Ghazala, who has cared for a 14-year-old boy in her first year of fostering, shares her experience.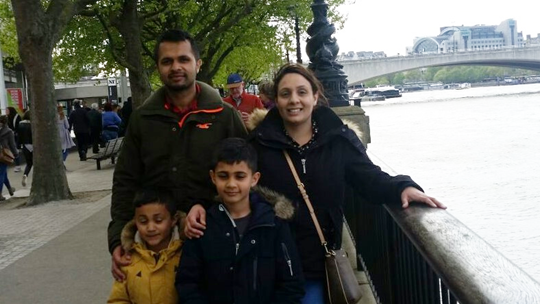 "We waited far too long to start fostering"

Ghazala, who has cared for a 14-year-old boy in her first year of fostering, shares her experience.
When I was pregnant with my first child, I encountered a very difficult pregnancy where I found myself in hospital for an extensive amount of time. I saw a lot of people in the weeks I was there, but there was one particular person who stood out. I witnessed a young child who had no real home. I couldn't stop thinking about all the children in the world that have nowhere to go, nowhere to call home and no one to cuddle up to on the sofa at night.
With this in mind and the fact I had a close friend who had children of her own and foster children, who I couldn't tell apart, I knew I wanted to do something similar to help vulnerable children in our communities.
My husband Jamil and I have two sons, Eesa, aged 9, and Ismael, aged 6, and we waited until Ismael started school to take the first step into fostering; we wanted him to understand the process. I think it helped that he already had a sibling, therefore, he felt really comfortable and excited by the prospect of having another brother or sister. We made it clear that they were able to talk to us about their feelings
We've now celebrated our first year in fostering with Oliver*, a 14-year-old boy who is thriving in our care. We weren't sure what to expect at first. We imagined he'd be quite nervous and apprehensive, as he'd spent the last few years in and out of care.
Sadly, as expected he had suffered trauma, he arrived in ill-fitting clothing with matted hair and hadn't had a shower in a very long time. He also had an eating disorder whereby his diet consisted of pasta with oil and salt.
We were all in shock at how Oliver had been neglected. As a family we quickly reacted and took him straight to the barbers to tidy him up. We then took him shopping and kitted him out with a brand new wardrobe. Within a day, we'd improved his appearance and most importantly gave him new experiences, which he was very thankful for.
It's really important that children feel like they belong to a family – we always try to make sure Oliver feels like he is one of us. We've taught him how to live as a family and how to deal with his emotions. As you'd expect from a child living with Asperger's, he had tendencies to get angry quite quickly, but his life is regulated in our home and that's something we've helped him control. When he first arrived his language was terrible but that's no longer an issue. Everything we've thrown at him, he's overcome, he's an absolute delight and we're so proud of him.
It's extremely rewarding to see the change in Oliver over the past year. From our first meetings with social workers and his school to now, the difference is incredible, he's a completely different child.
We have a lot to be thankful for, throughout the whole process ISP have given us fantastic support. They're always at the end of the phone if we have any queries or concerns and our support worker is amazing, I couldn't ask for better support.
Oliver is part of the family and we really hope that he stays with us long term. If this isn't possible, I have great satisfaction in knowing that I've played a part in helping transform Oliver into a caring and compassionate young boy. That's why I've fostered, not to keep them but to change children's lives for the better.
Ghazala and her family are currently fostering with our Enfield team. If you're interested in fostering in North London, then we'd love to hear from you. Get in touch today by filling in our online form or call us on 0800 0857 989.