"We have gained so much through fostering, it's amazing"
Dedo began fostering with ISP in February 2019 and is now sharing her inspiring fostering story from the last three and a half years.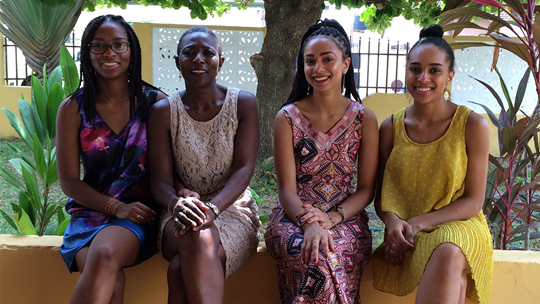 Dedo began fostering with ISP in February 2019 and is now sharing her inspiring fostering story from the last three and a half years.
There were a few factors which contributed to Dedo's original interest in foster care. Formerly a researcher and having worked with children as a social worker and within schools, Dedo enjoyed a variety of different careers before taking the life-changing decision to foster.
She said: "I've always had fostering in the back of my mind, but I think more than anything, my mother inspired me because she fostered many children over the years.  I have also always worked with young people in different capacities - they're my passion really."
She continued: "When I was growing up, there were always lots of children in my home around me. As a little girl, I didn't realise they weren't my mother's birth children, it wasn't until I grew up that I realised that they were her foster children."
"I suppose when you grow up being around fostering, you're more aware that they're not just kids in care - you make room for them, look out for them, care for them and respond better with them. I have followed what I've seen my parent do"
Once Dedo had been approved at panel for fostering, a child was placed with her almost immediately as she revealed: "My journey started off straight away! It's been quite interesting. Once I completed my fostering training and skills for fostering, I went off to panel and shortly after becoming approved, I was matched with a child!
"It was a short-term foster placement, but it was a good match. It was a lovely match. The child was supposed to be here for a week but stayed for a month and it worked beautifully for both of us."
After Dedo's first foster child, she then went on to do more short-term and emergency fostering, including sibling groups. Dedo explained: "I had a really traumatised young brother and sister with me for a little while, which was tough for us all. I used all my skills during this placement to ensure they had a better life and show them that life could be a little easier for them in some way."
Dedo has four daughters, one of which is due to graduate from university soon. Dedo explained: "We're a house full of women. As I lost my husband, the girls have partnered with me in this fostering journey. I've got my girls around me and they are strong, powerful young women who empower every girl who comes here."
Dedo reminisces: "Just before lockdown, I had a lovely young girl come to stay with me. It was kind of like a match made in heaven because within a short time of her coming, lockdown happened, and this gave us time to bond and get to know each other. We had a chance to work through some of her difficulties and trauma.
"With the help of ISP therapists and other people, I was able to help her through her trauma. It's now been two years since she has been with us and she's going to university this year - it's just wonderful. I also believe that being around my strong, independent daughters has encouraged her to spread her wings and believe she can go to university if she wants to, just like my birth daughter did.
"This is a child who stayed in her room and dissociated at the drop of a hat. She has now bloomed. As cliché as it sounds, she's like a butterfly that has broken out of her cocoon. Above all, she's now able to trust us. And that's a huge step because most of our children have absolutely no reason to trust us because we're adults and they have been let down by so many adults in their short lives."
It has recently been revealed that only 6% of care leavers go to university, much lower than average 18-year-old students.
"My foster child mentioned before - she's gone through her education, and she's just received two offers from great universities. She has broken down every stigma or prejudice attached to being in foster care and celebrated instead," said Dedo.
Dedo said that she believes the negative stigma attached to fostering should be dispelled: "There is a really awful, untrue stigma attached to being in foster care, and it's almost limiting people's beliefs in what they can do and actually, it's very harmful."
Dedo believes it is the support network around her which has made her journey all the better: "I've got a fantastic network. I look forward to the network meetings because they're very in tune with what's going on. I've got my supervising social worker, therapist and fostering advisor and we work well together. One of the team will always pick up the phone. There will always be amazing support and advice."
Dedo has the following piece of advice for those considering fostering: "Research it first and be absolutely sure you want to do it because it's not a doddle, but it is rewarding. You must know that you are going to need huge amounts of compassion and empathy, and time, because it's not a quick fix. It can take forever to even get a genuine response out of your children.
"Have patience and a genuine desire to bring the child up. Don't go in with a 'Bob the Builder' let's fix it attitude. It is a slow and steady process, but it certainly pays off and it is the most rewarding thing you could do."