"We could give more children the life that they needed"
Carmon and her husband Mark started their fostering journey 15 years ago with the desire to have a large family.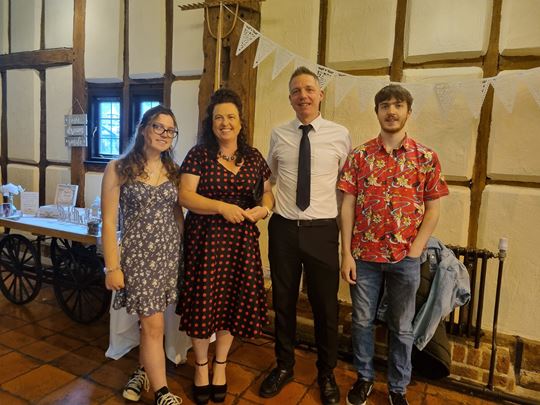 Carmon and her husband Mark started their fostering journey 15 years ago with the desire to have a large family.
Reflecting on her journey before fostering with ISP, Carmon said: "I have always had a passion for working with children and have worked in nurseries as a childminder. But, once I had my birth children I couldn't bear to leave them.
"I always liked the idea of having a big family and being surrounded by a lot of children and it's something that I was really familiar with from my time childminding. We started thinking if we had foster children, we could give more children the family life they needed."
She continued: "Since the start of our journey, we have looked after around 80 children for both long and short term.
Carmon reveals how her birth children, now 19 and 17 have benefited from the experience. She said: "We started fostering when my birth children were three and four years old. *Daniel is now 19 and *Alice is 17.
"I always used to beat myself up about it at the start because of my birth children, I didn't want them to feel I wasn't giving them enough attention. However, this experience has really helped them, they are both very grounded and have done well for themselves after growing up around foster children."
Seeing their foster children and birth children together gives them so much joy. Carmon said: "At the moment we have *Luke who's 16, turning 17 in September and he's been with us for 18 months now. We also have *Ben who's 15, he's been with us the longest, 10 years.
"We recently came back from Center Parcs and we just had a fabulous time. To see all the kids laughing and enjoying being together was wonderful. It was lovely to see how well they were getting along.
She continued: "They were all in the tree houses at one point and *Alice was frightened so all the boys put her in the middle of them and it was so sweet. I couldn't stop taking pictures. We just felt like proud parents."
When asked how she has made a difference in her foster childrens' lives, Carmon said: "When Luke first came to us, he was self-harming nearly every day. He was really angry, head banging walls and breaking things. Now, being able to see him enjoy himself with others, taking part in things and just having fun is lovely.
"Seeing him giggle and letting himself go is wonderful. He now feels safe to do that which is nice. In the short period of time we've had him, we've allowed him to feel safe and he's now able to trust people again.
Getting attached to different children has become the hardest part of the journey for Carmon. She said: "When children arrive you quickly become attached to them and when they then leave it's heartbreaking.
"It doesn't matter how prepared you think you are, sometimes it hits you like you're grieving. I find that keeping busy usually helps me and thinking about the good times they had with us and what we gave them.
When asked about how they found the fostering process with ISP, she said: "We found it really easy. ISP are excellent, they have been therapeutic and on the ball with everything. We felt part of the team.
"My advice to anyone thinking of fostering is to go to an information event and speak to as many people as you can to get the full picture. I would say it's like a train ride, you can get off at any stop you want, and you don't have to stay on if it doesn't suit you.
"But, if you do choose to stay on the journey, the result is so rewarding."
Names have been changed to protect the childrens' safety.