12 Ways to Make a Foster Child Feel Special at Christmas
Christmas is a magical time of year for children, but it can be difficult for many young people in foster care, as the memories and emotions of the past come flooding back.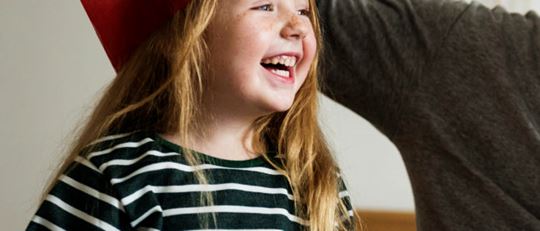 Christmas is a magical time of year for children, but it can be difficult for many young people in foster care, as the memories and emotions of the past come flooding back.
As the festive season approaches, we ask some of our Foster Carers for their tips on how to bring back the joy and make a foster child feel special and part of the family at Christmas.
1. Find Out What They Want to Do
Make sure you talk to your foster child to find out what they would like to do at Christmas and also share your planned family activities. This will help to show that you respect the things that are important to them and that they'll be included in all your celebrations.
2. Storyboard Christmas Day
On the first day of December, put together a story board of what happens on the three most important days – Christmas Eve, Christmas Day and Boxing Day.
Include all the basics, such as when you eat breakfast, dinner and tea, when you open presents and if you'll have any other guests in the house. Print out photos of the guests, use cut outs of the different foods you'll eat and the wrapping paper that you'll use for presents. This removes the element of surprise and really helps to reduce anxiety on the day.
3. Homemade Christmas Cards
When sending out Christmas cards, why not let your foster child write their own name, draw a picture in each of the cards or maybe even make your Christmas cards for close friends and family. Make sure you keep some safe for both you and your foster child, as it's a great memory for if and when they move on.
4. Put Your Tree Up Together
Let your foster child choose some decorations for the Christmas tree, and let them help you put it up, so they feel really involved. Perhaps also purchase a personalised bauble with their name on it and let them hang it up on the tree, wherever they want to. This will also help to make them feel part of the family.
Your foster child may comment something like 'our tree never looked like this last year' or 'we had a star not an angel', which can sometimes result in some form of emotional outburst. To prevent this, try talking to your foster child about what their tree was like before and try to incorporate this within yours.
5. Help Them to Buy Gifts for Birth Family
If appropriate and your foster child has contact with their birth family, help them to find some gifts to give to them before Christmas. You could also help them to create a Christmas card, wishing their birth parents a merry Christmas.
6. Tell Them That Santa Knows Where They Live
We always make our foster children aware that Father Christmas knows that they are living here and make sure there's a personalised gift from him to the children. Perhaps you could send a special letter to your foster child from the North Pole.
We also make sure they're involved in our traditions like leaving a glass of sherry, mince pies and carrots out for Santa and his reindeer on Christmas eve.
7. Create a Family Christmas Eve Box
Decorate a lovely box, paint your family name on it and fill it with lots of goodies to keep everyone entertained the night before Christmas. Make sure the box has some treats that your foster child will also like inside.
8. Be Mindful of Their Emotions
Make them feel like they are included in all the activities on the day, but be mindful that they may be missing their own family and sad that they can't be with them. If they don't want to join in with something, don't force them.
Give them space if they need it or see if they'd like to go for a walk, just you and them.
9. Gifts from the Wider Family
If your own children receive gifts from your extended family, try to make sure that your foster children will get them too. This will really help them to feel part of your family. Also, why not let them help you choose gifts for your family too.
10. Treat Them Like Your Own
Plan lots of positive interaction, fun and games and involve them in everything, like you would with your own children. Encourage them to get involved in the planning and preparation, choose presents, put up the tree – all the usual stuff your own children would do.
11. Respect Their Family Traditions
Share your family traditions with them, but also take some time out to understand what their traditions may have been.
12. Tell Them How Loved They Are
Remind them that they are loved and make sure you tell them how happy you are that they are sharing Christmas with you and your family.
These children may have suffered neglect for many years and just need to be told how special they really are – it's small gestures like this that really help to build their self-esteem.
If you're coming into your first Christmas as a foster carer, then we really hope some of these tips will give you some ideas to make this year very special.
If you'd like more advice on becoming a foster carer, then please feel free to give your local team a call or have a chat with your Social Worker – we want to make sure that Christmas is enjoyable for everyone.